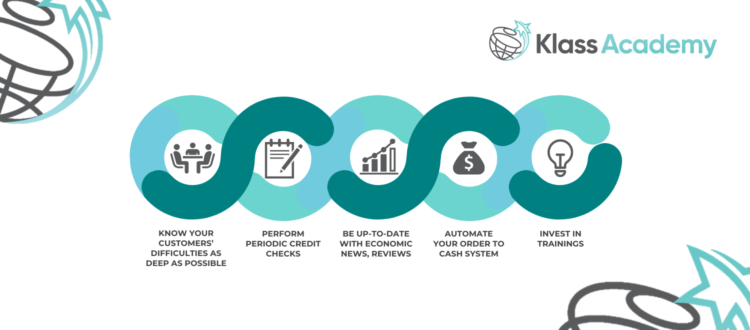 Are You Fit for Credit in the Current Economic Climate?
The economy all over the world isn't in good shape. With rising interest rates, high inflation, logistics issues, less money in people's pockets, businesses struggling and more insolvencies, a great recession seems to be looming.
In this blog post, we give you some useful tips on how to prepare and maintain good, effective credit management during tough times.
Tactics to Reduce Your Risk Exposure:
Due diligence
Due diligence during new customers onboarding with you is crucial. Your salespeople should be given a credit toolkit with a set of questions to ask. In addition, it's vitally important they come back with crucial soft information to help you make sound, commercially minded decisions. Your aim, is to Maximise Sales while Managing Risk.
Periodic credit checks
Periodic credit checks should be carried out on all customers and customer visits are vital for this. Working on the 80/20 principle. The majority of your business will come from the least number of your customers, so they will have the biggest risk exposure. These are the ones to visit regularly. Our tip is to segregate accounts and carry out credit checks as follows:
Quarterly for businesses established up to 2 years
Half yearly for businesses established up to 5 years
Annually for businesses established more than 5 years
Quarterly for any business causing you concern no matter how long established
Accurate and timely reviews
Accurate and timely reviews result in lowering bad debts and help mitigate credit risk. Websites, industry news, financial magazines, papers and articles can all be good sources of information.
Order to cash automation
Order to cash automation increases efficiencies. Are your systems working for you or are you working for your systems? There are many order to cash systems out there. How efficient is yours?
Safeguard your cash flow
Safeguard your cash flow by raising and sending out invoices promptly, ensuring your collections team is trained to the highest possible standards, keeping accurate records, notes and maintaining the highest possible receivables ledger, outstanding for the shortest possible time.
Extended payment terms
Extended payment terms and payment plans are likely to be requested by some of your customers and others will deliberately try to pay late. Previous downturns in the economy show normal 30-day payment terms being extended up to 120 days. If any of your customers are looking for extended credit terms, ask very pertinent questions of the decision makers in the business. Training your collections team to ask the right questions in the right manner, getting customers on side, works very well.
Collaborative learning
Train your collections team to ask the right questions in the right manner to get the customers on side. Upskilling via Collaborative learning comprises of
Digital Training, which your people can complete anywhere, anytime at a pace to suit them.
Virtual Coaching, which expands on the digital training and deals with issues they are finding difficult and to answer any questions they may have.
Live courses online or at your premises, presented to suit your specific needs.
Process, system and people
Streamlined process, suitable systems and skilled people assure effective credit management, during tough time. Klass Academy training courses are approved, accredited and internationally recognized by NCFE, the oldest accreditation body in the UK. Why don't you put us to the test.
Klass Academy provides digital training, virtual coaching and live courses for Finance, Sales and Order to Cash professionals. Would you like to hear more, visit klassacademy.com or email to contact@klassacademy.com.
Christmas special offer – 35% discount for combined Digital Training on 7 E-classes on Cash Collection and 2 Virtual Coaching Sessions, only €995.00 (£859.00) per person.
---