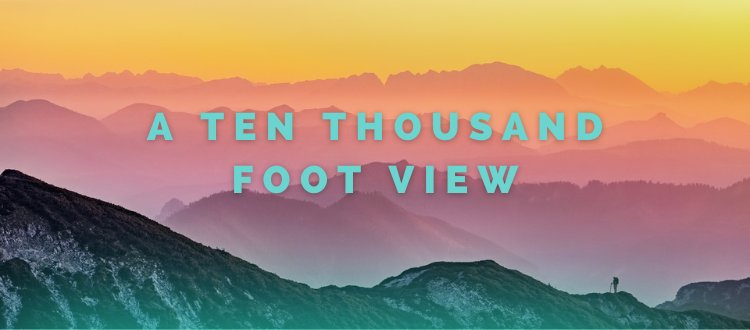 A Ten Thousand Foot View to re-engineer the Order to Cash Process
"I've decided that we need to try something new!"
The management team waited in trepidation.
"We're going to introduce 'Six Sigma Lean' or was it 'Lean Six Sigma'?"
"Excuse me, but these tools were introduced in the 1980's, and they are far from new!"
"Yes, but they will be NEW for us!" the boss quickly replied.
Funny but true! But why should anyone take a leap of faith in process consultants or new technologies? Why should you bother? Take a step back and view the curvature of the land with Nick Lawley, and consider how you can gain efficiencies in the order-to-cash process.
The Beginning
In 1979 I got involved with my first improvement team, it was called a Quality Circle. I was a young manufacturing engineer at the time and found this team approach to fixing a problem interesting. I remember the problem was a customer complaint. A product returned because it was faulty and not fit for purpose. It seemed normal in those days to upset the customer. In return you would buy them dinner down the pub and everything would be OK.
Several years later customer expectations changed. They wanted more detail on how you fixed the problem, and more importantly how you'd ensure it wouldn't happen again. That was not the only change. The customer wanted delivery "Just-In-Time". They wanted reductions in product cost; introduced stringent quality requirements; and many more demands were made: Productivity; Efficiency; Inventory controls. Business was changing at a rapid pass, driven mainly by the automotive industry.
The Learning
We were into the mid 80's when, driven by adversity, I started to get involved with Kaizen. This philosophy was more intense and followed a specific improvement path.
1) Get the Employees involved and create a list of problems.
The problem with this was we had lots of problems, even the coffee machine was a problem.
2) Encourage solutions choose the best ideas.
Buy a new coffee machine was a quick win. It seemed to me that the employee problems and solution ideas were not helping the real issues of the business.
3) Test solution.
Lots of coffee was tried.
4) Regularly measure.
Coffee every day.
5) If it works adapt the solution.
Coffee machine was purchased
6) Repeat the process all over again.
The lunches in the canteen could be better.
The problem with Kaizen is there is no end goal, you repeat the process over and over again. After a while employees' lose interest. Also, because there is no end goal or future state plan, the financial impact on the business is minimal. There was always a 'perceived saving' at the end of each Kaizen, but the saving didn't seem to reach the bottom-line results.
Sure, there were some good things that came out of this period, but the business did not improve as hoped. Most projects chosen were related to problems in Production, Maintenance, IT or Engineering, and the enthusiasm to continue in these departments soon started to wane.
A new Dawn
In 1990 a very important event happened in the Continuous Improvement World. A new book was released called "The Machine that Changed the World". A new term was used in the book called Lean. Continuous Improvement evolved into the Lean system. It was based on a production system designed by the Japanese motor company Toyota. It was predominantly a manufacturing system. Large corporations and company's Like Nike, John Deer, Dell, decided to run their manufacturing under the mantra of Lean production. Most companies who adopted Lean experienced great success. But there were casualties! Like many new initiatives, there were, and still are, pitfalls to avoid:
Poor understanding of the overall business direction and what customer Value is.
Poor understanding of transformation skills required.
Poor execution.
It does not matter how much Lean improvement you practice; you still must grow a profitable business.
From the 90's on, manufacturing businesses based their production system on five Lean principles: –
1) Define Value
Customer Value is what the customer is willing to pay for.
2) Map the Value Stream
The goal is to use the customers value as a reference point and identify all the activities that contribute to these values.
3) Create Flow
After identifying and removing waste the following action is to ensure the remaining steps run smoothly without interruptions or delay.
4) Establish Pull
The goal of the system is to limit W.I.P. Work in Process. A pull-based system is always created from the needs of the customer.
5) Pursue Perfection
The company should be a learning organisation.
There are tens of thousands of examples how Lean has driven rapid improvements in Productivity, Supply Chain, Quality Control, and because of their huge successes the service industry has taken note. Order to Cash, Finance, Hospitals, Banks. All have started to see the potential for workplace efficiency by adopting the same five proven principles Manufacturing adopted many years ago.
Order to Cash a new Look
Order to Cash is a very complex process, that's why you can't buy an off the shelf end to end solution. It's why we need humans and machines working together. 
Order to Cash runs deep in the background but it covers all aspects of the customer journey. Sales, pricing, contracting, collections, order fulfilment, finance, and of course customer service. In addition to that the type of business would also impact the design. Other than a major business crisis forcing change I can understand why a business would feel Order to Cash too complicated to reengineer. 
To start with, a company needs to accept the fact that order to cash flows across many function boundaries, and not one department alone is able to attempt an end-to-end solution. Then, there are many combinations of customer type, product, industry, clearly it would be impossible to find a readymade technology solution that would optimize the whole process.
It's not unusual to find business order to cash run in siloed systems and owned by different functions. Typically, finance own invoicing, billing, and collections. Operations own shipping, and distribution, and then commercial organizations own Sales, and order handling.
Integration and collaboration are key to defeating complexity. Complexity is a killer in business. It drives waste and strangles creativity. By working together to create a customer facing, cross functional agile teams providing true value to the customer. Traditional Organizations based on product, function, or geography are history.
Order to Cash the Opportunity
A simple way of looking at Order to Cash in a business organization is to think of it in terms of the model below. In your existing operation you will already have Skill, Knowledge, Management etc. Its how you convert this resource into increased Productivity where a 'Lean Framework' can help you. But to do this, your organization must make a paradigm shift in the way it thinks to reach full potential.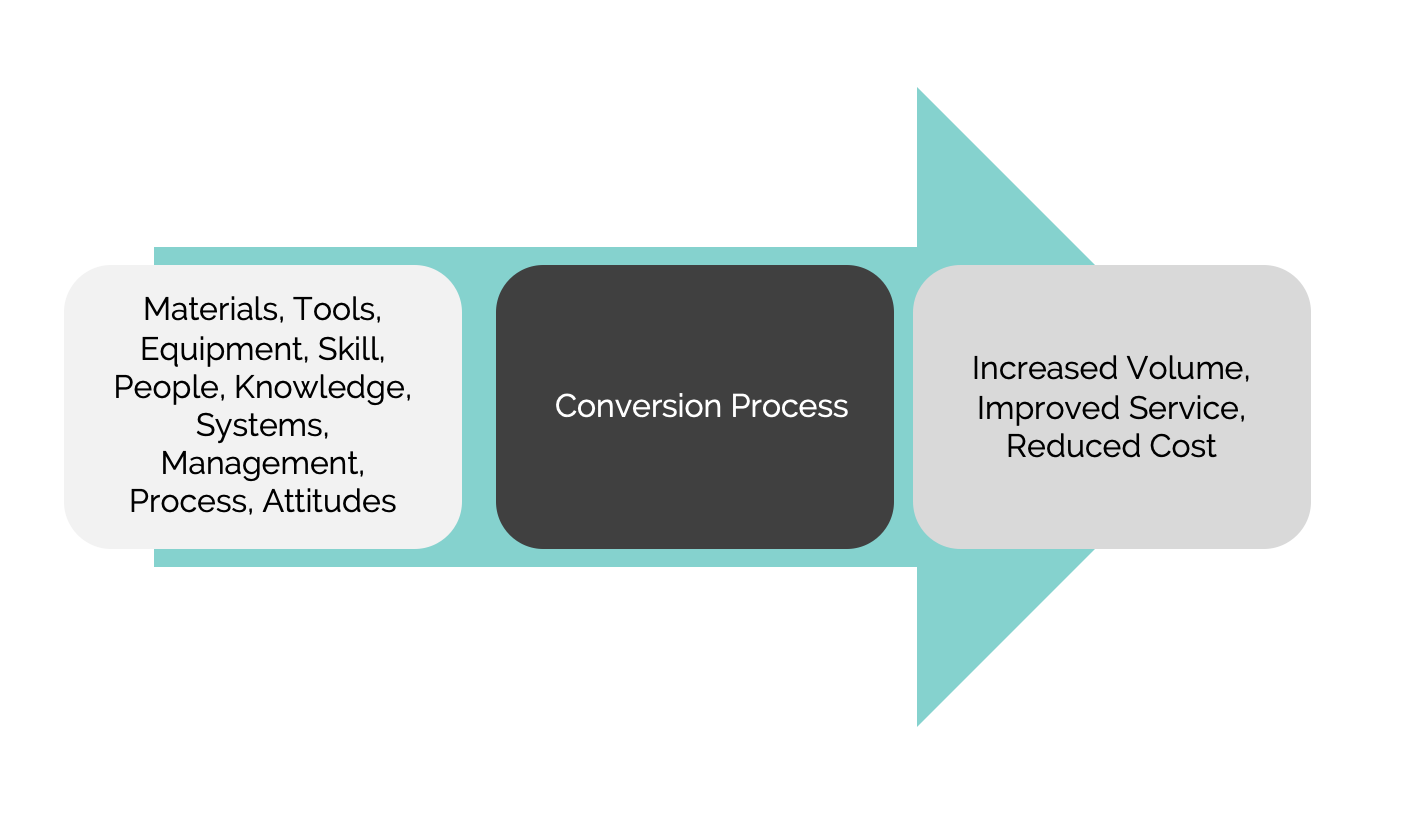 Klass Academy is believes that re-engineering the Order to Cash process is the greatest opportunity for companies today. By designing a system where humans and technology brings out the best in one another. Order to Cash covers all aspects of the customer journey. By re-engineering Order to Cash, complexity can be reduced providing a pain free, value added, customer experience. Our mission is to build a brand based on reputation that drives cost effective change and rapid business growth.
We will achieve this by implementing the five Lean Principles explained above. In addition…
1) We will take a deep dive into your customer base. Not all sales are created equally.
2) Processes specifically designed to provide optimum value to the customer.
3) Reviewing your organisation based on future state plans
Working closely with our clients, understanding your pain points, and identifying solutions based on your current systems and capabilities. We do not sell a ready-made solution. Your business DNA is unique to you. What we provide is a fully tried and tested Lean Process that enables your employees to be creative and provide solutions, guaranteeing employee buy-in, ongoing well-being, and increased interest in the business.
There is a myth within the Order to Cash finance community, whereas a digital transformation is the key to productivity and efficiency improvement. This is not wholly true. Order to cash underpins, Sales, Customer Service, Order Fulfilment, Invoicing, Cash Collection, and a mirage of other processes. It's a collection activity for all these things. There is no automated process that covers everything. That's why it's so important a hybrid solution is designed; a combination of Human and digital process is required. 
Our objective is to generate increased awareness of what service we can offer. Quantified by unsolicited requests for our offering. Our offering is to become a partner with small to medium size businesses. Provide on-site support with business analysis, training, design, execution, and provide expert ongoing support. Each outcome will be unique to your business, which won't easily be copied. We guarantee increases in Productivity, efficiency, and customer service.
Lean provides a philosophy, the tools, and management structure to design value streams and workflows to work diagonally across these functions. It provides a language all employees understand working toward the same business goal. We will introduce process and management standard work, We will train your employees to be able to identify and design their own high impact value streams and provide ongoing support via media and onsite visits.
Very quickly your organization will be driven by Operational Excellence, the next level. This is driven by each employee contributing to the business design which develops an extremely powerful organization which has the flexibility and speed to adapt to customer trends. Leadership and office managers have more time to become strategic thinkers instead of daily fixers.
Our challenge to you is to start out on this journey. Together we will design a road map and destination. Typically, 18 months dependent on company size. Continuous improvement is not a never-ending story. We will set milestones for tracking, with regular reviews. Giving you the confidence to meet the challenge.
Conclusion
So what's the point of lean? Why bother?
Lean Thinking offers a deliberate framework to think things through. Who are the customers? What do they consider to be value? How do our employees feel? How is the information flow going to be interrupted? What team activities should we sponsor? A sense of control and competence will help people and gain some autonomy – as well as genuinely help.
In today's challenging environment you can adopt one of two attitudes:
1) A growth mindset – Learning is useful! What we learn will make things better; learning is possible; we can learn what we don't currently know; setbacks are learning experiences and obstacles will be overcome.
2) A fixed mindset – Learning is a waste of effort! Even if it was useful, there is no time or nothing to learn that would help right now; learning is impossible – even if there was, learning is too hard and asking too much; the only way to succeed is to always look smart and never look dumb.
A growth mindset consistently leads to better results. With the right visual tools to promote, Lean creates a culture of independent thinking.
Please send your questions or comments to contact@klassacademy.com
---