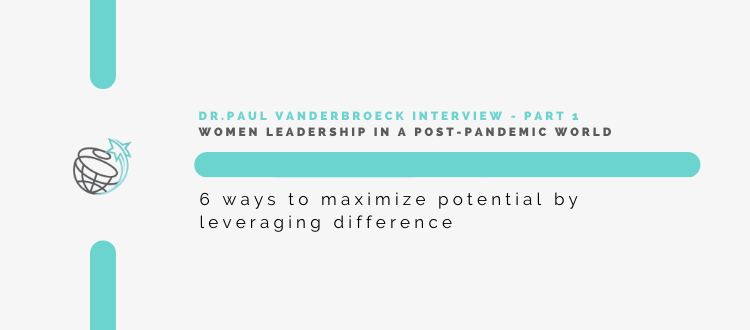 6 ways to maximize potential by leveraging difference
Interviewee: Dr. Paul Vanderbroeck – Leadership Expert
Interviewer: Lena Alnakhebi – Klass Academy
Dr. Vanderboreck is an award-winning author, career and leadership coach, with an HR executive background at multinational companies like General Motors, Royal/Dutch Shell, George Fisher, and UBS.
Dr. Vanderbroeck has studied the history and theories of effective governance and has seen what really works and what doesn't to produce quality leaders in complex organizations. He has a particular interest in how leaders and organizations interact most effectively and has a special affinity for Women Leaders, Career Transition, Performance, and Change Management.
He has joined Klass Academy presenting a Leadership for Women course. His half-a-day course entails stories and actionable steps on how women can be effective leaders.
LA: Can you tell me a few examples about how can a woman prove in a male majority company that she has leadership skills, and move her career forward?
PV: I think there are several ways of doing that. It starts with self-awareness, to know what you're good at and what you've done. And it's also important that you don't wait for others to see what successes you have achieved. Make sure that it's known to others and particularly to your boss. It's not bragging, just give factual information of your achievements.
Also, what helps us is what Sheryl Sandberg said. It is to lean in. In the sense of taking opportunities that are there. There has been some research done by McKinsey, that one of the reasons why women find it difficult to move up the career ladder is that at the beginning of their careers, in the first five years, they are more reluctant than men to take that first management role. This opportunity is the first time in your career to lead a team. That's an important experience and it's a step up on the career ladder. If you, postpone that step, it has an impact on the rest of your journey. So you have to take that first step, and try it out, particularly when you are a junior. Maybe you will make mistakes, but everybody does!
LA: Is there a difference in how women may stand out compared to men in the workplace? I think it's especially important because there is this common belief that gender differences make women and men effective in different roles. For example, a woman can be a very effective soldier, but she may not get promoted, because it's not considered a feminine role. So how do you stand out in the workplace or even aim for leadership positions when, even with the word "leader", there is this idea that it's a masculine role?
PV: It's what I call the phenomenon of leadership cloning, where we sort of copy the leadership roles we know from the past, which are generally men. We try to clone new leaders in the same way, and you won't fit when you have a different profile.
Now, with regard to standing out. In organizations where women are the minority, you will stand out as a woman. There's no way around it. Women sometimes try to hide and try to be "part of the group". But that's not the right approach, because it's not going to work.
As a woman, you enter a room, a meeting room full of men, you get attention, whatever you do because you are different.
But what you can do is influence how you are being perceived at that moment. Are you entering that meeting like a boss? Are you entering that meeting as a negotiator? Are you entering that meeting as a salesperson? When you are entering that meeting you can adjust how you behave, and get attention, in a way that the message you want to convey gets understood. Being different is a great opportunity in meetings where you see men, fighting for attention – shouting because everybody looks the same. As a woman, you don't need to do that.
And that also connects to the previous situation. How can you show that you are a leader? Well, you have to tap into those moments when you are on "stage" and use them to your advantage.
LA: Work has become at least partially remote. It's a new norm in many organizations. How are these new ways of working affecting people, according to you?
PV: We know it is important for people to have a certain informal and interpersonal context at work; the coffee you have together, the lunch you have, the short conversation in the elevator up to the meeting room. Those things are valuable, both for building relationships, but also to pass on information or even for creative purposes.
That's a general thing, where we can be struggling to find new ways of doing that. So luckily, these days, people have more opportunities to come into the office and have these contacts. But with at least partial remote working, it is important to create and nurture virtual office environments. Having said that, I believe there is an opportunity for women in this regard.
A lot of that traditional informal networking and relationship-building opportunities on-site work have been constructed in times when those organizations were particularly male. Some of those opportunities are less suitable for women who may have other commitments and can't attend those traditional networking opportunities.
LA: Basically within the pandemic and the post-pandemic environment, the set standards of networking were shaken up, and that provides a new opportunity for women.
PV: Absolutely. So if networking happens in a different way, perhaps in a virtual way, that is a new opportunity for women to do more of it.
LA: How to stand out in the workplace in a remote working environment?
PV: That's an important question because a virtual meeting is different from an in-office meeting. So that also means how you are being heard, how you get your point across, how you solve a disagreement, how you take a decision happens in a somewhat different way.
And what's also interesting is that on a screen with, let's say 10 people, everybody has the same size space. So that's sort of an equalizer, which is an opportunity for those who find it difficult to speak up in a meeting.
Because there is an interesting difference between a virtual meeting and an in-office meeting. When would you ever write a message in a real meeting when you sit together? You know people will talk, perhaps do a presentation, but they will never write something. In a virtual meeting, you have the opportunity to chat, either individually, or with everybody.
LA: It's interesting because it is the same with virtual meetings as with virtual networking. There are no set forms yet regarding how to do virtual meetings so we can define our own ways of doing it.
PV: Yes. I've seen this happening over the year, that people are starting to experiment with how to present themselves on a screen. So people are becoming more aware of what they wear, how they look, their backgrounds, and more. And I think, there's an interesting new development going on. I'm already waiting on the next training on how to effectively communicate in a virtual space.
Contact us with your requests or questions.