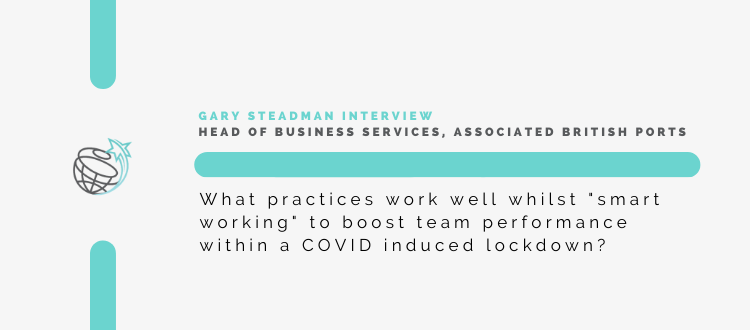 What practices work well whilst "smart working" to boost team performance within a COVID induced lockdown?
Interviewee: Gary Steadman, Head of Business Services ABP (Associated British Ports)
Interviewer: Paul F. Austin, Klass Academy
Gary Steadman is the Head of Business Services of Associated British Ports (ABP) since 2019. He is responsible for Shared Services known internally as Port Business Services. This currently encompasses Accounting, Order to Cash, Procure to Pay, Master Data, and Payroll. Gary and his team strive for continuous improvement. Before ABP he worked for Lonza as Head of EMEA Shared Services In Manchester, and he was Director of Shared Services at Thermo Fisher Scientific where for 3 of his 10 years he was based in Costa Rica.
Gary's current company ABP is the UK's largest ports group with a network of 21 ports across Britain. They handle around a quarter of the nation's seabourne trade contributing £7.5billion to the economy each year and supporting 119,000 jobs. They also operate one of the UK's busiest rail terminals at Hams Hall in the Midlands.
PA: What have been the main challenges for the Shared Service Centre over the past year?
GS: Keeping people together and making sure that everyone is ok. In the office, you can see body language, whilst remotely you can't. We've been highlighting to our people that it's ok to not be ok and there is help available. Let's face it – it's been tough. Homeschooling whilst working, isolation when you live alone – there has been a mental health impact and that's been my major concern.
PA: With your priority to ensure the wellbeing of your employees, how has Covid changed the way of managing the shared services operations and what methods have you used?
GS: Of course, everything is now remote. I have gone from having almost 100 people in a room to having everyone working remotely. We have added regular check-ins, remote team meetings, monthly newsletters and town halls to keep people informed. We do evening wine tastings and quizzes at least once a month, just to keep that fun human element going.
PA: Have you introduced and implemented any new practices in the past year?
GS: IT stepped up. They set up the right infrastructure. We have implemented a number of RACI's, and as I said earlier, team check-ins, newsletters, things like that.
PA: Have these new practices helped your team maintain their productivity?
GS: If I think about productivity we are actually more productive since we have been at home, and there's a number of reasons for that. In the case of our RACI's, we have been able to ensure clear responsibility and accountability for tasks across functions not including my own. This has made sure that everyone knows what their piece of the jigsaw is – which in turn has helped us be more efficient. Pre-Covid, when something got dropped, somebody in the office would usually just pick it up and deal with it but with remote working that is harder. So you have got to make sure everyone knows what they are doing and when things need to be delivered by.
PA: How do you manage performance?
GS: We have regular one to ones with the team and we also report metrics regularly – Accounts Payable and Accounts Receivable are measured weekly, Master Data, Payroll, R2R are measured monthly.
PA: Can you truly oversee how much work, and measure the quality of work, that your employees are delivering?
GS: Yes you absolutely can,we certainly don't have a big brother mentality where people are monitored throughout their working day but we know what tasks there are to do and they get done. There is a lot of trust with the teams as there should be. I'm lucky to work with a bunch of professionals that get the job done.
PA: Have you lost speed from working with a remote team?
GS: I have not, and I can't give you any example of slower working within the team whilst working remotely.
PA: Does it perhaps take a longer time to discover problems, and to enable the communications necessary?
GS: If you see a metric slipping, you can jump on it. If you speak to people in their one to ones and you sense something is off, you can try and get more information to help. Again, it does come down to trust and empowerment. One of the benefits of working from home has been more contact. We are using Microsoft Teams and we are video calling much more, which has led to an increase in communication since the Pandemic, which can only be a good thing.
PA: How has communication changed, internally and externally during the Pandemic with smart working? In which ways?
GS: For me, communication has become a more regular in order to make sure people have the information they need. In addition, as mentioned previously, we do monthly town halls where people have an opportunity to ask questions.
PA: Are conflicts more visible or less visible than before? And how do you deal with conflicts with a remote team?
GS: I've not had any experience of conflicts since we started working from home. From the team perspective, colleagues have been working together really well.. They all contact each other and check in with each other regularly.
PA: Are you tired of communicating via Skype, Zoom & Teams?
GS: Not at all and I think this will be the new norm. For internal communication, I find it much better communicating via video and seeing the person you are speaking to. Often in the office you would email or use the phone and not see the person but now you do.
PA: Do these tools replace human interactions?
GS: Obviously as things stand you can't be physically present in a room with colleagues, unless you are following social distancing guidelines but I think Microsoft Teams has introduced a new way of communicating. Let's face it, we now have meetings with multiple people via video calls, saving travel time and cost and that is a definite positive.
PA: Have the efficiencies of the Shared Service Centre been impacted…? And how much of that is attributed to the online communication tools?
GS: I personally think it's been the opposite. We have found better ways of working and that has had a positive impact on efficiency. It's easier to have one to ones in private as there is no need to wait for meeting rooms to free up and things like that. We have used the time to make sure all mandatory training is carried out and again some courses are run virtually in groups across the company, allowing you to meet more of your colleagues.
PA: We understand that you are an advocate of the "team boards" to share information and visually display objectives and KPIs, bringing awareness to performance. How do you manage the team board communications in a virtual environment?
GS: I am a big fan of stand up meetings and team boards to display information. Instead of huddling around a board in the office in the morning, we view a remote version normally on PowerPoint.I also send our KPI pack out monthly and make sure the team knows what we have achieved.
PA: How do you motivate your team? What will make them achieve their goals?
GS: In a remote working environment you do rely more on self-motivation. Of course, you check in and make sure everyone is ok but unlike the office environment where you can see people and get a feel for how they are, remotely you can't do that. For me, it's making sure colleagues have what they need to do their job. Also, looking after children and homeschooling can be challenging and we make sure they have the training and development they need. I am blessed to work with an awesome team that wants to do well. It's all about two way communication and making sure everyone has what they need.
PA: Do you think that training can improve motivation? And what do you think of digital trainings online during this period?
GS: A lot of my team are attending digital training and live seminars, which really do help to develop their knowledge. Often you get that snippet of information that they can implement into their work, and help them improve.
PA: As we gradually return back to "normality", what techniques and methods will you drop, and what will you take into the future as part of your continuous improvement process.
GS: This is a difficult one and the true answer is I don't know. There is no doubt that things will be different – and I guess we need to get back to the office, find our feet and find a way of working that is comfortable again. For some, it could mean a full time return. For others, a hybrid of office and home work. I am sure we will keep our Microsoft Teams video meetings going and that will be our preferred contact method.
PA: What are you looking forward to the most, as we return to the "normal" working environment?
GS: For me, it's meeting people. I am a people person and I love human interaction. Lockdown has been tough. My last few jobs have seen me constantly travel and since Covid, it's fair to say that I have suffered from cabin fever. I have been locked in Scotland since March last year. It will be nice to get back but also know with confidence that I can work from home just as efficiently.
PA: Klass Academy is providing "Blended Learning" trainings with bite-sized chunks, and flexibility for the learner to learn at their own pace. Quality content is delivered via digital training, live courses and virtual coaching. What do you think about these training methods and what is the most effective in your opinion?

GS: I guess it depends on the person and the subject. Remote learning we know is effective and absolutely has its place, and I think classroom learning has its place as well. What I like about what I have seen from Klass Academy is remote learning. The bite-sized punchy training that you guys have. It is highly effective. You are not sat around for couple of hours watching a screen. It's those micro-bites and the bite-sized really punchy training that I find very efficient. But I do alternatively like the interaction in personal training so I do like sitting in the classroom and learning this way as well. So I would say that it depends on the subject and the knowledge and preferences of the person receiving the training.
Contact us with your requests or questions.