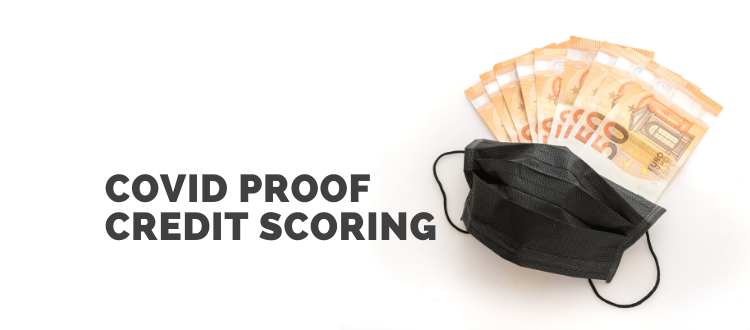 Covid Proof Credit Scoring
Do you believe there is such a thing as Covid Proof Credit Scoring? Well, maybe not. However, there is such a thing as Commercially Minded Credit Management and Credit Scoring!
I have always been a commercially minded Credit Professional and my methods started back in the late 1970's and Early 1980's when Margaret Thatcher, UK Prime Minister at the time, privatised the Gas Industry. Many ex British Gas Engineers started their own business selling gas fires and gas cookers, they were not able to before privatisation. The key to this was getting Salespeople on side, proving to them how commercially minded I was and encouraging them to gather the right information that allowed me to know each customer. Thereafter, any additional information I needed was down to me and if I had to visit customers to get the information, I did.
What you should do:
Prove to salespeople and others in your company that credit management is profitable and worth investing in.
Show salespeople that good effective credit management starts with them and that they should make payment terms part of the sales package.
Salespeople should understand that the longer money is owed to the company, the less profitable it is for the company and the chances of incurring bad debts increase.
Here are what I believe to be the main aims of good, effective Credit Management:
Provide Customer Satisfaction at A Profit
Maximise Profit on Profitable Sales
Make Commercially Minded Credit Decisions
Maintain High Quality and Standards
Keep Bad Debts to A Minimum
Drive Top Performance KPI's
Communicate Effectively at All Levels
Credit Management plays an important part in sales and sales also play an important role in credit management. Unless you work as a partnership, in harmony, then either one or both departments will underperform.
Gathering Information
Gathering the right information, from whatever source, is vital. Credit Application Forms, Salespeople, Credit Reference Agencies, Credit Insurers and from Customers directly. You might consider reading the article on Know Your Customer by Martyn Brooke.
Understanding Financial Statements
Knowing how to read and interpret financial statements is a must and what is good or bad will vary from industry to industry. Scoring key ratios is covered later.
Credit Scoring
The scoring is for you to decide. There are different trends in different industries and additional scoring methods for well-established customers you have been dealing with for years!
1. Score – The information gathered
a. Excellent
b. Very Good
c. Good
d. Satisfactory
e. Acceptable
f. Unacceptable
2. Score – How long have they been in business?
a. 0 – 3 years
b. 3 – 5 years
c. Over 5 years
d. Over 10 years
3. Score – Financial Information
a. Projected Turnover
b. Actual Turnover
c. Up to date Filed Accounts
d. Latest Management Accounts
e. In Profit
f. Losses
g. Issued Capital
4. Score – Personal Credit Checks
a. Clear
b. CCJ's
5. Score – Business Premises
a. Owned
b. Leased
c. Rented
6. Score – Other Directorships
a. Good
b. Bad
7. Score – Key Financial Ratios (good will vary from industry to industry)
a. Current Ratio
b. Liquid Ratio
c. Days Stock Held
d. Gearing
e. Net Profit Margin
f. DSO
g. CDO
h. Interest Cover
What the ratios mean and what is a good ratio for the industry the customer you are dealing with is in should be investigated or already known.
8. Score – Net Worth
a. Tangible Net Worth
b. Intangible Net Worth
c. Up on previous year
d. Down on previous year
Granting Credit
There isn't necessarily a best way to grant credit. You can get different credit agency reports on the same customer and be given a different rating and credit limit by all of them.
The method I use has been developed by me over many years and I have produced score cards for many companies, dealing in different industries and other countries. I have just touched the surface here to give you some idea.
Are you going to be one of the major suppliers to your customer or one of many suppliers? This should play a part on how much credit you grant and on what terms and conditions, including payment terms.
Credit Score Determining Level of Credit
You need to be aware of how to apply scoring against the different industries customers are in. Do you know the answers to these questions?
What industry are your customers in?
Do they carry a lot of stock?
Do they only provide a service?
Do they only sell goods or products?
Do they operate just in time purchasing?
Are they classed as general?
Exceptional credit, where more than the credit department can justify is needed, should be a company decision!
Developing Your Own Credit Scorecards
Should you want to go further with this and learn how to develop your own Credit Scorecards, I would recommend attending practical training courses which cover Credit Management, including:
Gathering Information
Understanding Business Reports and Financial Statements
Credit Scoring
Credit Worthiness
The Credit Decision
Negotiating Credit Terms
Policy and Procedures
Other Considerations
Alternatively, you can hire an expert to develop a scorecard for your specific industry and customer base.
Check out our 5-day Level 4 Certificate – Live Course on Credit Management!