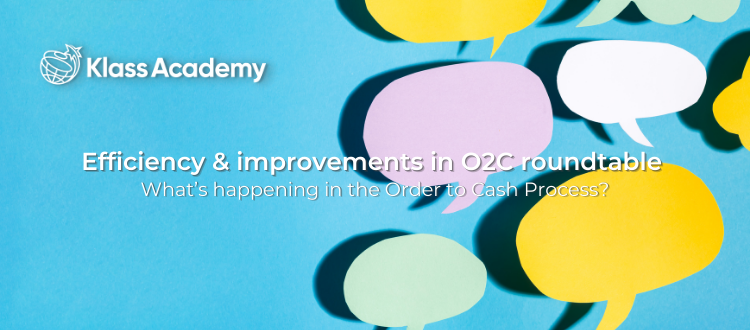 Efficiency and improvements in Order to cash Roundtable
In September, Klass academy and Forums International teamed up to host an esteemed panel to discuss efficiency improvements and innovations in the order to cash process:
Intelligent & Robotics
Process Automation
Hybrid solutions
Optical Character Recognition
Digital Flirting
According to a McKinsey & Company study, businesses have surprised themselves with the speed and success of their digital initiatives in response to Covid-19. On average, digital offerings have leapfrogged seven years of progress in a matter of months.
What's happening in the Order to Cash Process?
The Panel:
Robert Hutson – Hewlett-Packard | Global Credit Consultant
David Liddy – Adobe | Director of worldwide credit
Olga Szlachta – Electrolux | Worldwide Order-to-Cash Process Owner
Gunther Smets – Cargill | Global Operations Lead, Credit to Cash
Mediators:
Klara Boor – Klass Academy SA | Founding Partner and Managing Director
Laurie Beagle – Forums International | Managing Director
In this blog, you will read about interesting takeaways from the roundtable and how innovation efficiency, within order to cash, is vital in the coming years.
Robert Hutson
Robert Hutson's views on this topic were centred around innovation; after all, he works with HP, a company that strives to develop and achieve the best with technology.
HP strategic focus is on B2B, selling computers through distributors with a revenue of $55 billion. HP has around 400 people working globally in credit and collections and has different centres in Asia, Europe and North America. 20% credit and 70% cash collection according to Robert. Since HP is an international company, with clients and staff from all over the world, the team is multilingual, an essential tool for negotiations, especially in credit and collections.
Since its foundation in 1939, HP has a rich history of development and pioneering technological innovations. Now they are focusing on Robotics and Intelligent Automation, in which HP has recently developed 20 robots, with a simple objective: to eliminate tedious, repetitive tasks (often country-specific)! This is surely a hallelujah moment for companies and employees alike.
Robert describes how Intelligent Automation (IA) will eliminate many problems and cut costs, which is excellent news for companies world-wide in many industries. In particular, the automation and robotics brings value to service, hospitality and banking sectors, where clean execution of repetitive tasks are critical to success.
So, this is good news for businesses who wish to improve service levels and reduce costs but a challenge to re-train employees to learn new skills and deepen existing ones. A few examples of HP's involvement in solving problems with automation include:
Automatically direct invoice disputes to dispute owner
Credit card reconciliation
Payment allocation
Local tax invoice consolidation
Direct Debit notification
HP uses an Automated Recievables and Treasury software bolt-on system, which helps save a lot of time. An example quoted by Robert
we've cracked the problem, or a good bit of the problem of local tax invoices in China which have saved 2,500 man hours/year
After reading all this, you might be thinking, "this might affect people's morale and motivation" but you are wrong here as well. Of course, people are more productive and have a more positive outlook on their job, but these robots or automation can also help improve the quality of work. Just imagine the number of errors these machines can avoid in credit and cash collection?
This is because people are usually trained to deal with these new technologies. Robert emphasises that employees are keen to learn such technical and demanding skills such as Python, which has made it big regarding the back end of automation.
According to Robert, robots are efficient and meaningful to people. He gave a great example which summarises what robots can do in the future for credit and collection:
Excel, that you know and work with every day, you hit a button, and it goes off and performs certain functions. Instead of an individual in Excel doing that, the robot will do it at a whole system level for everybody.
With regards to Digitalisation, HP were early adopters of online training, and it is part of their culture to train people to be better at their job. HP launched a mandatory training program. Robert explains:
to give everybody some insight into the benefits of digitalisation.
A great initiative as the future is digital, and there is no denying that if a person does not adopt the trend, they will have difficulty coping with fast immerging technologies.
get young people that are very keen to develop their computer skills on the back of what they do within credit management.
Millennials have appreciated this style of work, where everything is flexible. HP has had this model for 12 years.
Finally, when asked whether people will struggle during online work, Robert said
The social animals miss the company, basically, you know, we have a lot of young people that live by themselves in a flat in their apartment. And if they haven't got that social interaction, at work, then they miss it.
Certainly, this needs to be well considered for the future well-being of our teams, to enable the success of future business.
Olga Szlachta
Electrolux has SCC's in Brazil and Kuala Lampur, as well as a central central hub in Krakow, Poland. A hybrid approach utilising approximately 500 people working globally in Collection; Credit Management; Detection; and Customer Data.
Electrolux distributes its products through B2B distribution and has recently dipped its toes in the B2C. In the past 18 months, they have been challenged by a stressed supply chain and shortage of components. They have also encountered a substantial change in consumer trend, as home-owners stuck at home, invested in kitchens and appliances causing a massive increase in demand.
Selling approximately 60 million household products in over 120 markets every year, Electrolux's most significant achievement has been to service the market under pandemic conditions, managing their teams to create genuine partnerships.
With the transfer to smart working and working on-line, Electrolux struggled at first with communication and team management. But recognising, investing and caring for their employees, Electrolux were able to maintain team morale and improve results.
Olga quoted
having meetings on a frequent basis on a monthly or sometimes weekly basis in order to talk, understand, and listen to each other" , demonstrating the importance of communication, be it online or not.
Olga emphasised that they continue to have regular meetings on a weekly and monthly basis to facilitate and ensure good communication.
Electrolux have developed and implemented AI, more precisely, a receivables system with the assistance of machine learning and OCR technology incorporating RPA elements. A game-changer, according to Olga, who says that
with the use of an Automated Receivables and Treasury Software system one can develop new ways to work with AR platforms.
Electrolux are now developing and improving cash applications, collection, and deduction related activities.
Olga explained that automation is their most significant source of ROI, where the number of errors is less, directly reducing the number of corrections:
for example, we've been able to, achieve a match rate of 85% for cash application.
Cash applications with automation can do the following:
­The agents will have the list of customers immediately available.
­An algorithm will process the data.
­It will then create criteria and scoring, which quickly defines what action should be taken.
Olga explained that Electrolux is a company that is stiving for efficiencies to improve service, save time and reduce costs. With their teams working from home and hybrid environments, it is essential that they continue to utilise available technologies and embrace automation to reduce errors and increase the speed of corrections.
David Liddy
David Liddy has immense knowledge in credit from his 20 years with Adobe.
A company that is famous for such products as Photoshop and Premiere Pro, providing online software tools for creators all around the world.
Adobe is not only tracking standard KPI's, but spending time to evaluate individual effectiveness. David says
I'll plot what an individual does on a daily basis, to understand where their time is consumed. This enables us to improve on their effectiveness in the collection process.
An important point which emphasises the importance of understanding the effectiveness of people along with the hard data.
As with all the speakers, when it comes to efficiencies, David is always looking for new strategies to reduce Adobe's decision time and improve responsiveness.
Adobe constantly takes importance in innovations, and David had specified a few that caught everyone's eye during the discussion:
Massive VRP Systems
Cloud Technologies
Automated Receivables and Treasury Software
RP Systems
These innovations not only improve efficiencies, but also save time with effective global management. David explains:
Travellers can go into the system and see an account, pull the invoice, and communicate directly with the customer from the platform, rather than having to write up and customize an email…
The implementation of Automated Receivables and Treasury Software is helping Adobe; however, it is still too early to understand the impact and long-term benefits.
Automated Receivables and Treasury Software has helped many companies solve frustrating issues. The learning culture and strive for efficiencies are essential when embracing digitalisation, and David emphasised the importance of employee and team development.
Adobe's continuous improvement methodology, enables the team to learn and develop new technical and soft skills within collections, communications, financial analysis, and related areas of responsibility. Providing opportunities to learn within the company by doing tasks or projects which, in David's opinion, is the best way to learn something new.
…we know an incredible amount of stuff already, but there is always something new to learn… We're quite young, and very keen to develop, professionally and personally, their journey within Adobe.
With years of success and experience, we may have a feeling that we know it all…! But, especially in this technological era, there are so many challenges and opportunities to develop and learn new skills.
Applying this philosophy to our personal life (as well as our professional one), to be willing to try new things & accept that things constantly change, will enable us to add value to the company and enhance our lives.
Gunther Smets
Gunther Smets, Global Credit to Cash Process Manager, works for Cargill, one of the giants in America. This is a company with has a successful track record of how to adapt in an ever changing environment, and now embracing the digital transformation.
Digital flirting
"Digital flirting" was the term used by Gunther, a method to measure various activities and data. The digital tools enable the company to keep track of KPI's. This is not only important for day-to-day performance tracking, but it also helps in evaluating the impact and effectiveness of decisions, ultimately assisting the company to make smart growth and strategy objectives.
Cargill had trouble at the start of the pandemic; they had difficulties with remote working, which impacted their day to day experiences. According to Gunther, the company were fast to improve communications with solutions to support teams as well as financial solutions.
…we moved from a decentralised integration to a more centralised organisation, including back office functions. …We invested in our people and systems to manage overdue situations….
This helped to reduce working capital, and not only had a short-term positive impact, but also an indication that the strategy was beneficial for the long-term. The strategy also raised Cargill's profile with stakeholders, who, according to Gunther:
…stakeholders now see us (Credit to Cash) as part of the solution, not just as an internal administrative service provider.
Cargill use a "skills and capability matrix" to help evaluate and develop their teams for digitalisation.
­ Understand current state – where are we now?
­ Define the objectives – where do we want to go?
­ Agree the method – how are we going to get there?
As part of the Personal Performance Plans, the model is a great way to assess employee willingness to change and develop new skills. Understanding the mindset of individuals is also important for Cargill, to help define the training required for the company and each individual.
Cargill has also implemented Automated Receivables and Treasury software into their systems to expand their landscape with a customer-driven focus.
Investing in automation has assisted Cargill with their "lean" journey: streamlining processes and improving efficiencies.
If we look at how digital solutions or digital elements affect profits, we not only evaluate and understand the upfront investment and run-rate costs. … we also understand how sustainable the improvement and continue to measure the effectiveness…
Soft skills are also an essential aspect when it comes to dealing with customers and the business alike. Every leader's primary focus goes to making the business flourish, and it all ends up being that person's responsibility for whatever business decision was made.
My role as a leader, within the organisation… I am accountable and responsible to make sure that there is a culture and an environment that allows everybody else to be successful…
Embrace the technology to be successful
Automation in O2C will help many businesses become more efficient and spend less time finding errors and rectifying them. It will also increase speed of data evaluation to enable correct strategic decisions to be made for the company. Companies have a continuous challenge to motivate and manage the well-being of employees, but with the correct culture and management, technology can bring opportunity for employees to develop and learn new-skills, adding value and securing the success of the company.
If you found the topics discussed in this blog interesting, head over to our website to learn more about cash collection topics in our e-course platform.
---