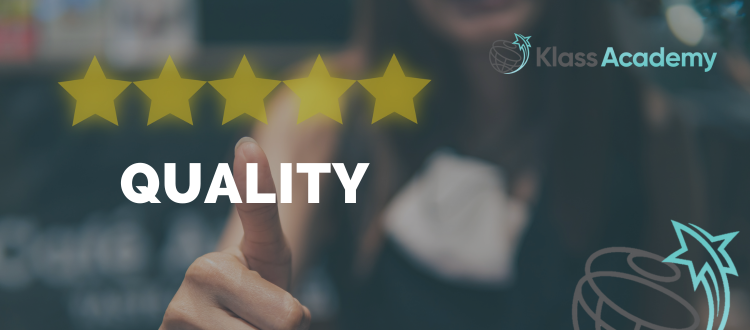 Klass Academy has International Recognition from NCFE, a leading provider of educational services that has been at the forefront of technical and vocational education for over 170 years.
The top-quality training courses offered by Klass Academy are approved and accredited by NCFE at Level 2 and Level 4 Certificate.
External Quality Assurance
An annual review of what Klass Academy offers is carried out by NCFE to ensure we meet all necessary requirements for running accredited, customised training courses.
Here is some of what the review consists of with comments from NCFE:
Previous Action Plan
There are no outstanding actions to address.
Assessment – Excellent – No Action Required
The assessment is mostly by blended learning.
Assessors have full and up to date information.
There is a planned program of delivery.
Assessment methods are consistent with the Qualification Specification
Learners receive regular feedback after assessment.
Assessment records show accurate tracking, progress, and achievement.
Registrations have been completed in a timely fashion to allow for external quality assurance to take place.
Internal Quality Assurance – Excellent – No Action Required
Internal quality assurance strategy and sampling plan is in place which is reviewed regularly.
Arrangements are in place to ensure effective meetings and standardization takes place across qualifications and all sites.
Assessor responsibilities are clear and meet the needs of learners and assessors and development is available continuously to support these responsibilities.
Internal quality assurance of assessment decisions has been applied as outlined in the Qualification Specification.
Assessors are provided with clear and constructive feedback on the use of assessment methods and assessment decisions.
Assessment is internally quality assured, and each unit of internally quality assured evidence is named, authenticated, and dated.
Sample dates are consistent with dates in the Internal Quality Assurers sampling plans.
Reliability of Assessment
Assessment is as expected and fully consistent. No remedial action is required.
Learner Feedback
Purpose – Has the qualification achieved its purpose?
The course balanced the foundations of information of both numerical and soft skills.
Content – What did the learners think about the content?
The content structure was very good.
Support – Did learners interviewed receive a reasonable and appropriate level of support?
Excellent support – Presenters were pragmatic with a sense of humour when teaching us how to get what we want.
Validity of Assessment – Were learners able to provide evidence of knowledge and understanding?
Yes – always aware of achievement and understanding of outcomes.
Additional Comments from NCFE
Thank you, Steve, for providing the required evidence for this External Quality Assurance review. It's a positive report. Well done and thank you!
Steve Savva FCICM
As the Education Director, I am proud of the successes we have had with NCFE approved and accredited training courses and very pleased with the results of the External Quality Assurance review completed by me with NCFE on 28th March 2023.
Klass Academy
Since forming CMT, who have transitioned into Klass Academy, more than 8,000 delegates have attended training courses with us and over 2,000 of those have completed a 5-day Examination Course. We have also provided In-house training for more than 400 companies.
Put us to the test and Invest in our Quality, NCFE Accredited, Training courses.
Read more about benefits of accredited training and visit our training courses for cash collection, credit management and leadership for more information.
Klass Academy is educational body of the Swiss Credit Association.
Klass Academy provides digital training, virtual coaching and live courses for Finance, Sales and Order to Cash professionals.
Would you like to know more about Credit and Financial Analysis? Visit our website or email contact@klassacademy.com.
---