Why Blended Learning & Micro units?
The working day is already packed. Should employees stop to learn new subjects because they don't have time for it? No – Of course not! In our fast pacing world, learning subjects related to your job and to the disciplines that can facilitate your work is the best thing to do. Learning institutions adapt to changes rigorously.
If you are an active learner, you can tap into challenges and will not be afraid of trying yourself in different areas! I can take my grandfather as an example. At a young age, he built ships. Being a practical man, he went into building construction as it was more lucrative, then became a plumber, but it was not enough so he learned about heating systems. His skills were so varied, and he knew about many fields, so they asked him to teach young craftsmen. These days he learns about the internet and social media to communicate with us from a distance, and he is actively taking care of his pharma garden learning about new methods to grow tomatoes. He demonstrated a great example of how to adapt to changes, via continuous learning.
How can you take time out for active learning, when the day is already very busy?
You can take a shorter time with the help of digital training which is a fast way to learn. You can do it when you want and where you want. The concept of digital learning was already an emerging tool for teaching well before the reality of COVID-19 hit the globe.
But "digital education" is not standardized. Providers are numerous, the content, the quality, the length, the methods vary greatly. One cannot be sure about the content except when it is about learning a technical skill. Even then, differences in the delivery and depth of the training are significant. When choosing digital training it is good to look up credentials and validation of the trainers.
Then you may ask, will digital learning take the place or complement on-site learning?
Digital training alone is not enough. Training which is built only on digital methods is limited. It often does not provide real engagement.
Why Blended Learning?
It is more efficient. It combines digital and face to face learning experience to enhance the learning results: learners will more precisely remember and adopt the content, in their work routine.
In many parts of the world, educational institutions are reopening with blended learning classes combining the physical and digital methods. This provides a more immersive experience with optimal physical contact. We see these phenomena at universities and schools, but in the corporate training world, blended learning is still new.
When I learned about digital marketing during my Master's classes, I learned the basics by e-classes, then had the opportunity to consult my particular questions with leaders from the industry. I was lucky to take the benefits of blended learning. I used digital classes any time I liked and had the opportunity to discuss my particular questions. It worked for me!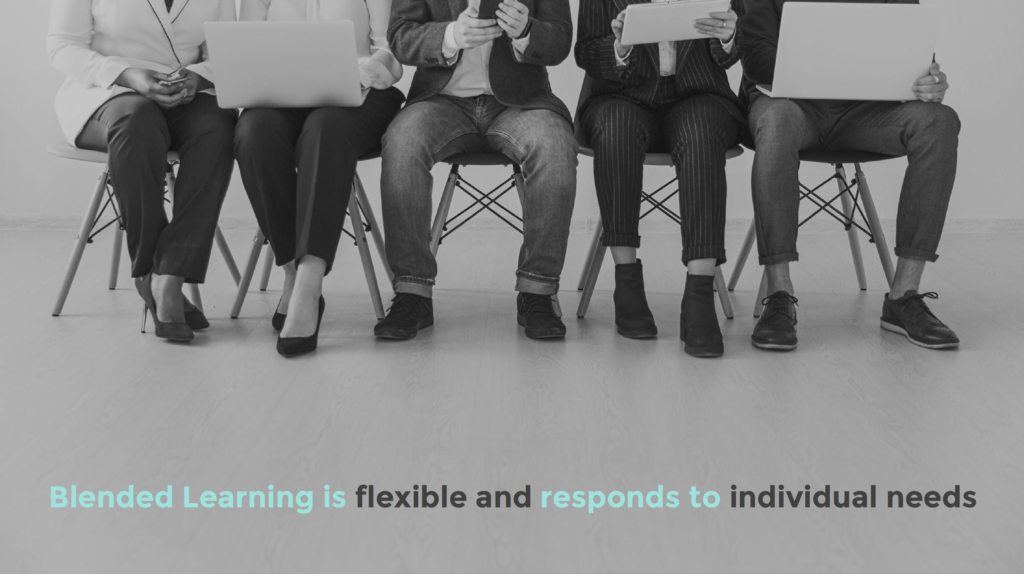 What could be the elements of Blended Learning?
It could, for example, consist of Digital Training, Virtual Coaching, and Live Courses, as we do at Klass Academy.
Digital Training provides foundational knowledge. Things that are essential to know about. During Digital Training you click and read through materials. If you have missed something you can always go back into the learning material to check it. Good digital content seeks to engage you where you are, slowly building on past knowledge and bringing in new facts and points of view. The aim is to end up with sustainable changes in your daily practices. You learn best, when you watch, then you do it right away. Long videos are boring, and it is a lot more entertaining if the digital material contains interactive exercises and activities, simulations, and so on.
Virtual Coaching is a highly customized learning opportunity where you can ask questions that you couldn't raise internally. The subjects are according to your individual needs. It is about revising the digital material, self-direct your learning, and fill your specific knowledge gaps. During a Virtual coaching session, the aim is to establish an open and effective communication with a sense of connection. The hosts of the training should keep things positive, staying within your scope of practice, and focus on the goals of the session.
The advantage of Live Courses is that you can apply your learning to concrete workshops with other delegates. This in turn, enhances your engagement with the subject matter and provides motivational benefits from the increased social interaction. Live Courses facilitate class discussions and collaboration. Live courses come with plenty of examples, with information you can use immediately. They focus on both theory skills development and practical group exercises, including gaming and friendly competition.
We complemented our Blended training with Gaming. Game-based learning fits seamlessly into a blended instructional model. Games can strengthen the learning process and act as bridges between the face-to-face environment and online training.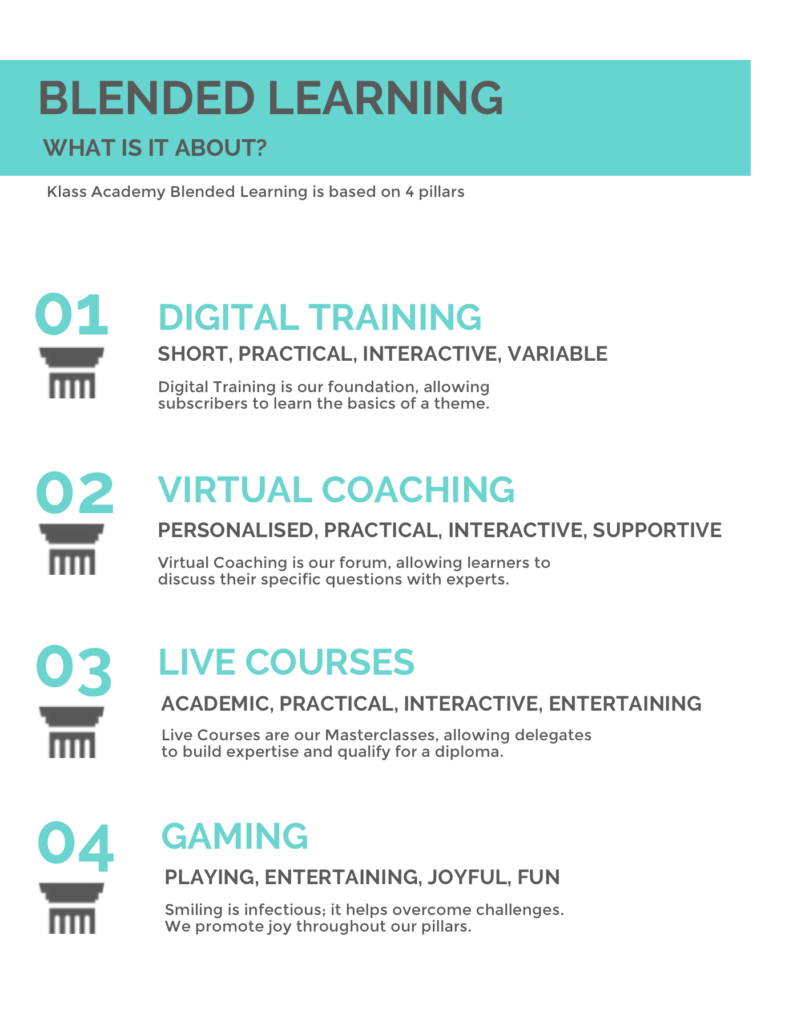 Why micro units?
They allow you to learn, even if you have little time.
You can learn as you come to work, on the train, or during your daily run for example.
Micro units offer flexibility for self-directed studies. As the name implies, micro-learning is fast. However, there are no time frames for it. It is all about your need and the context. You may spend five minutes learning or an hour – what matters is that you can learn as much as you want whenever you are ready.
Micro-learning is about speed, focus, and retention. Processing a micro unit, which bundles a short lesson, a demonstration, an interactive exercise, and resume, would normally take 4-5 minutes. Not bad, if your day is fully booked, is it?
I watched and completed many of my digital marketing e-classes while I was commuting between two neighbourhoods: Plan-les-Ouates and Carouge in Geneva. Sometimes only working on it for 4-5 minutes.
Micro-learning content ideally addresses one single learning objective. Each chapter provides a focused answer to a problem and has an average of 4-5 easy takeaways. This makes it fast to memorize. The chapters are condensed; therefore, you do not fill your memories with irrelevant information.
On the other hand, when you return to your micro-learning unit you will increase learning retention. Performing micro-learning activities frequently helps with transferring knowledge into your long-term memory. Don't just take our words for it! According to a study conducted by the Journal of Applied Psychology, micro-learning makes learning 17% more efficient than traditional longer-duration courses!
Consequently, micro-learning is the future. Not only because it is flexible, but also because it suits the needs of the Y and Z generations for shorter focus time and multitasking options.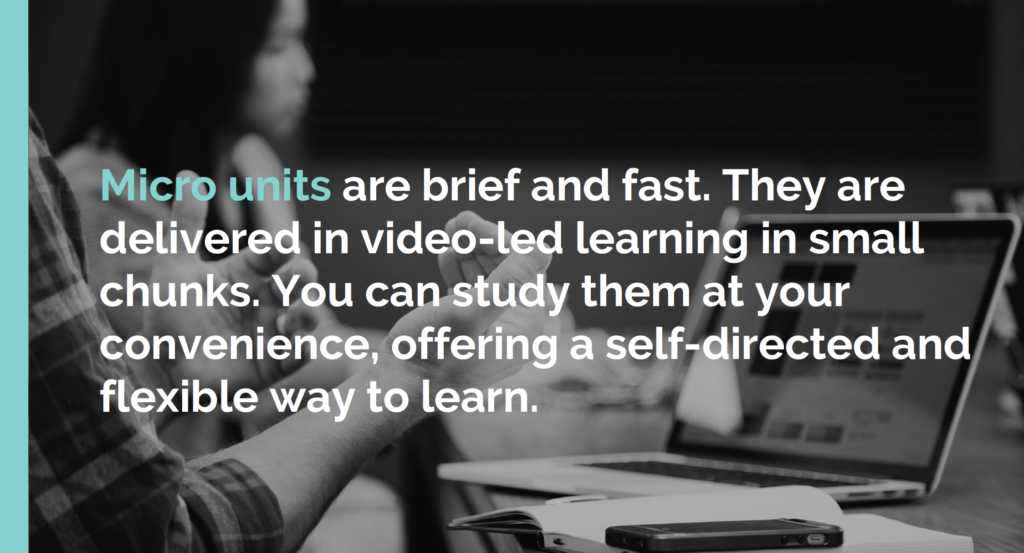 Learning must go on even if social distancing is required. Why? Because it is useful, entertaining and can even change your mindset. Learning experiences can help to reframe the demands of work, as welcome opportunities instead of threats. For example, during challenging times learning something new helps me feel more at ease because when I add to my skill set, I feel more self-efficient.
Blended Training leads through concise learning modules, resources, activities, and assessments. Quality course content, expert instructors, and an optimal blend of online and face-to-face learning are a powerful combination. It results in a training program that helps business professionals succeed in the workplace.

Change and training in the workplace are essential and they need the support of leaders, human resources and the commitment of the people attending the training. With Klass Academy, you can work with a training organization whose instructors have deep expertise and who have experience tackling thorny business issues head on.
If you need help designing a truly impactful training program that fits your needs, please contact us. We work with organizations and business professionals of all types to support a culture of continuous improvement that increases productivity.